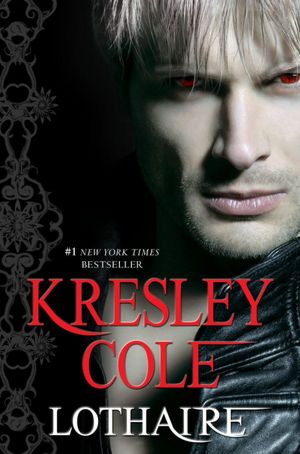 Publisher
: Gallery Books (Imprint of Simon and Schuster)
Publication Date
: January 10, 2012
Format
: Hardback, 468pp
Age Range
: Adult
Series
:
Immortals after Dark Series, #12
Genre
: Paranormal Romance
Source
: Bought from Premiere Collectibles.
Buy
:
Barnes and Noble
|
Amazon
ALL FEAR THE ENEMY OF OLD

Driven by his insatiable need for revenge, Lothaire, the Lore's most ruthless vampire, plots to seize the Horde's crown. But bloodlust and torture have left him on the brink of madness— until he finds Elizabeth Peirce, the key to his victory. He captures the unique young mortal, intending to offer up her very soul in exchange for power, yet Elizabeth soothes his tormented mind and awakens within him emotions Lothaire believed he could no longer experience.

A DEADLY FORCE DWELLS WITHIN HER

Growing up in desperate poverty, Ellie Peirce yearned for a better life, never imagining she'd be convicted of murder—or that an evil immortal would abduct her from death row. But Lothaire is no savior, as he himself plans to sacrifice Ellie in one month's time. And yet the vampire seems to ache for her touch, showering her with wealth and sexual pleasure. In a bid to save her soul, Ellie surrenders her body to the wicked vampire, while vowing to protect her heart.

CENTURIES OF COLD INDIFFERENCE SHATTERED

Elizabeth tempts Lothaire beyond reason, as only his fated mate could. As the month draws to a close, he must choose between a millenniaold blood vendetta and his irresistible prisoner. Will Lothaire succumb to the miseries of his past . . . or risk everything for a future with her?
Lothaire
, the book itself, was good. Not great. Not amazing. Just good. I feel like I'm betraying the series for saying that. Because I just thought this was going to be the best out of the whole IAD collection. The up-roar for this novel was tremendous in my opinion. I just knew it was going to be the badassery of the whole series. I mean...it was
Lothaire
. I think anyone who's read a KC IAD book, knows that it was a HUGE shocker for him to be the main hero. The book itself screams and stands out more than the rest of the IAD books.
Because it's suppose to be awesome and kick-ass.
I was sort of disappointed with this one, and I was
soooo
revved up for this novel to come out. I had ordered the signed and numbered edition back in November. Yeah. I actually think this book wasn't worth the almost thirty dollars it cost me. But I'm not going to rip this book a new asshole, because I did actually
like
the book.
The reason being said, I felt like it dragged a lot in some places. Sometimes it would be like...nothing
happened
. Then
bam!
Lothaire traces everywhere and shit happens all at once. It's kinda hard to keep track for me.
Although, I do like the history in the prologue. That was hella unique and exciting to see part Lothaire's childhood. Because he's such a secluded character. And you know...
vicious.
Among other things... But he was hard to love. I thought I'd be going head-over-heels for him in this one. I just...couldn't. I guess it was because he's so superior and selfish. He decides a lot of shit for his own benefit with Ellie. I mean...
Some
of the threats were just funny and ridiculous. But then it was like...really? You're going to act like this
now
? But in the end of the book, I liked him a bit better. But not love, though. Ellie was definitely a cute girl. I can relate to her because of where we're both from: the South. ;P She's from Virginia and I'm from North Carolina. I think we'd get along pretty well. It funny to bring to complete opposites together for a love story.
And trust me. Lothaire and Ellie are
totally and completely different.
So different, I had started to wonder in a few parts how things were going to work out.
If
they'd work out. But that's just how Kresley is with her books. :3
It also ended quite different than most of Kresley's novels. This one sort of ended off like it was it's own, totally different series. Like there could be a
Lothaire: Part 2
or something. If that were the case, then hell yeah. As Ellie would say,
brangit.
Maybe I'd like Lothaire even more. I want to so bad. <3333
But, this books was definitely good. I feel like I want to give it a lower rating, *dodges daggers*, because I just feel disappointed enough. But I don't because I actually did like it, deep down lol. And I love her IAD series...lots.
Plus because of the sexy scenes. xD