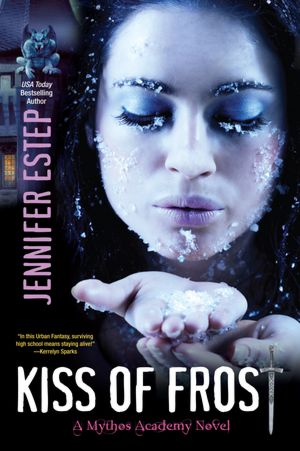 Kiss of Frost by Jennifer Estep
Rating
: ★★★★★
Publication Date
: December 1,2011
Publisher
: Kensington Publishing Corporation
Format
: Paperback, 368pp
Age range
: 12 - 17 Years
Series
:
Mythos Academy Series
, #2
Source
: Bought at Walmart
Buy
:
Barnes and Noble
|
Amazon
Logan Quinn was try­ing to kill me. My Spar­tan class­mate relent­lessly pur­sued me, swing­ing his sword at me over and over again, the shin­ing sil­ver blade inch­ing closer to my throat every time. A smile tugged up his lips, and his ice-blue eyes prac­ti­cally glowed with the thrill of battle...
I'm Gwen Frost, a second-year warrior-in-training at Mythos Acad­emy, and I have no idea how I'm going to sur­vive the rest of the semes­ter. One day, I'm get­ting schooled in sword­play by the guy who broke my heart—the drop-dead gor­geous Logan who slays me every time. Then, an invis­i­ble archer in the Library of Antiq­ui­ties decides to use me for tar­get prac­tice. And now, I find out that some­one at the acad­emy is really a Reaper bad guy who wants me dead. I'm afraid if I don't learn how to live by the sword—with Logan's help—I just might die by the sword...
I can say that my feelings for Logan
freaking
Quinn have lifted from dislike, to like. JUST A LITTLE BIT. I had my hopes up for Preston (I think I have a cousin with that name. o_o), and of course...
That
sure didn't go well.
I really liked this sequel to
Touch of Frost
; it definitely had some new emotions in there. And some new history of some sort. And I really liked that we got to look at some other characters too, that was a plus. :D (I so like Oliver....*dodges confused glares*) And Kenzie is a jerk. D: Juss sayin'.
Was anyone else surprised when Gwen shuffled through Preston's memories, and found
that one
? I wanted to bawl for Gwen's sake. That must've been SO HARD. T-T I hate reading about heroines going through stuff like that, when I actually
like
the girl. It makes me wanna cry so bad.
Anyway, this was a cool read! I loved it. :3 And of course, I can't wait for the next book!
View all my reviews