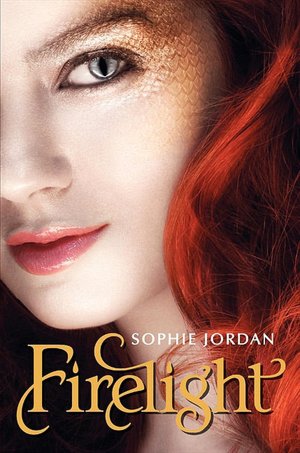 Rating
: ★★★★★
Publication Date
: September 7, 2010
Publisher
: HarperCollins Publishers
Format
: Paperback, 326pp
Age Range
: 12 - 17 Years
Series
:
Firelight Series
, #1
Source
: Bought at Books-A-Million
Buy
:
Barnes and Noble
|
Amazon
A hidden truth.
Mortal enemies.
Doomed love.
With her rare ability to breathe fire, Jacinda is special even among the draki—the descendants of dragons who can shift between human and dragon forms. But when Jacinda's rebelliousness forces her family to flee into the human world, she struggles to adapt, even as her draki spirit fades. The one thing that revives it is the gorgeous, elusive Will, whose family hunts her kind. Jacinda can't resist getting closer to him, even though she knows she's risking not only her life but the draki's most closely guarded secret.

Mythical powers and breathtaking romance ignite in this story of a girl who defies all expectations and whose love crosses an ancient divide.
Dragons.
Finally.
I really enjoyed this book. Like...
a lot.
I was hoping to find/read a YA book that's about dragons. Or in this book's case,
draki.
Definitely a whole new original unique story. It caught my attention from the first chapter; that's what I like. ;)
The scenery in this has been definitely used in other books. School, then woods. So it wasn't much to call
amazing.
But it was totally cool, considering it was dealing with dragons descendants. :3
There's only a few characters in this are easy to like
for me
. As in Jacinda, Will, Catherine, and Cassian. I didn't like Tamra, the mom, Brooklyn, Xander, and Angus. Tamra was waaaaaay too whiny, it seemed like she only thought about herself. (But I kinda feel sorry for her. o.O) And I didn't like Jacinda's and Tamra's mom, just in general. But I understand why she's like that. Protection, safety, yadda yadda. =.= Xander can just go rot in a hole infested with draki. Angus too.
I really liked Will. <3 He was just so cute and adorable.~ He was totally easy to like. :3 But then there's Cassian. It's my nature to fall for the underdog. >w< He really did seem like he wanted to love Jacinda more than the pride wanted them to mate. It was frustrating, totally. But Cassian is a big hunk of male that seemed swoon worthy. :D
I seriously need the next book. Like. Now. ._.
I knew I should've gotten it when I got then first. <_<
View all my reviews