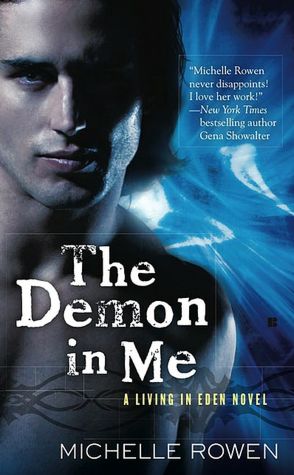 Rating
: ★★★★
Publication Date
: May 4, 2010
Publisher
: Penguin Group (USA)
Format
: Mass Market Paperback, 352pp
Age Range
: 17 - 18 Years
Series
:
Living in Eden Series
, #1
Source
: Bought at B&N
Buy
:
Barnes and Noble
|
Amazon
Hell hath no fury like a woman possessed...

After her hunky police detective partner guns down a serial killer in front of her, "psychic consultant" Eden Riley realizes that she's no longer alone. A voice in her head introduces himself as Darrak. He's a demon. But not in a bad way. He was cursed 300 years ago and he wants to find a way to break free. Eden's psychic energy helps him take form during daylight, and she's going to have to learn to live with this sexy demon...like it or not.
This actually was a pretty good book. I liked the plot, which had to have been thought out and planned. There were a few surprises in the book, especially the ending. That was like a slap in duh face. I knew I didn't like Ben. <_<
As in most adult books(though this one wasn't really bad on the sex, just one SHORT scene. ;p), the lead female has to be stubborn as
hell
. Well, the ones that I've read, at least. Sure, being possessed by a demon without any warning would freak me out too. But in her case, she went to far, and ending up with some minor consequences. And she's the only one out of Darrak's hosts that is able to hear him clearly in her head. And he tries to reason with her, and whatnot. (I sound stupid.)
Eden herself is an alright lead heroine for this type of book. I really like how her name clashes with the plot and essence of the book. I do think that she needs to suck up more, especially at the end of the book. She's got new powers, and they're dangerous. It probably wouldn't surprise me if she killed someone because of it. (Lol, I know what you're thinking. I'm harsh sometimes. ;3)
Darrak, the main hero in this book, and also a demon, is a hot-piece-of-ass. I liked him from the very beginning, black-smoke and all. ;P He's got a cute sense of humor, of course I'm going to like that about a guy lol. And I also like the way he's protective over Eden, it's like,
deathly
protective. They made such an awesomely-cute couple.
Also, I didn't like Selina. At all. Or Ben.
At all.
Ooooh, the sexual tension that's going to be in the next book, now that Eden's got her new pow-ahs. *ominus music plays*
View all my reviews