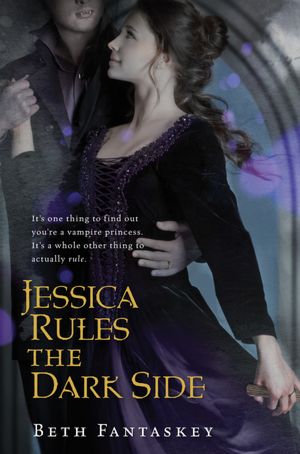 Rating
: ★★★★
Release Date
: January 10, 2012
Publisher
: Houghton Mifflin Harcourt
Format
: Hardback, 320pp
Series
:
Jessica
, #2
Age Range
: 14 - 17 years
Source
: Bought at local bookstore.
Buy
:
Barnes and Noble
|
Amazon
The highly anticipated sequel to Jessica's Guide to Dating on the Dark Side.
It's one thing to find out you're a vampire princess. It's a whole other thing to actually rule. Newly married Jessica Packwood is having a hard enough time feeling regal with her husband, Lucius, at her side. But when evidence in the murder of a powerful elder points to Lucius, sending him into solitary confinement, Jessica is suddenly on her own. Determined to clear her husband's name, Jessica launches into a full-scale investigation, but hallucinations and nightmares of betrayal keep getting in her way. Jessica knows that with no blood to drink, Lucius's time is running out. Can she figure out who the real killer is—and whom she can trust—before it's too late?
I seriously,
seriously
hope there's a third book to this. I had to wait
three years
for this one to come out, I hope to God I don't have to wait another unholy amount again. And it better be thicker than the second too; waiting three years for a shorter book than the first is just...ridiculous. But I can understand since she wrote Lucius's and Jess's wedding and a whole other book within the three years. But still. Good Lawd. ._.
I loooooved how Jessica transformed in this book. She went from normal high schooler to princess to ruler. It was definitely cool how that happened. I can say that I didn't like her in the first book, but she totally done herself justice with coming back at Lucius's trial.
And Lucius himself, I felt incredibly sorry for him. D: Even though he's as strong as the toughest steel there is, he seemed fragile when he was
locked up.
I hated it for him. Maybe it was because there was definitely lacking in JessicxLucius scenes. (If there's a third book, there better be more. *points an accusing finger in the author's direction*) Or two, I'm just used to him being all superior and whatnot.
Kingly.
I just loved Raniero. He was totally lovable with his surfer attire and Italian accent. He got even hotter when Mindy cut his hair and shaved his face. I could just imagine him in my head. And all I could see was Jared Padalecki. *sighs dreamily* <333
This was a very interesting and cool sequel
that I have been waiting on for my entire life it seems.
There were definitely some twists and turns in this. I was sort of expecting who the
real
suspect was. It was sort of obvious in my opinion, seeing as how there weren't many characters to begin with. Oh well. *shrug* I heard there was a third book, there better be a third book. >_>
View all my reviews