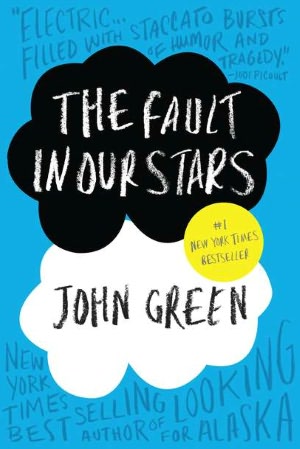 Read on March 5th.
Publication Date
: January, 10 2012
Publisher
: Penguin Group (USA)
Format
: Hardback, 336pp
Age Range
: 14 - 17 Years
Genre
: YA Fiction, Romance, Contemporary
Source
: Bought at B&N.
Buy
:
Barnes and Noble
|
Amazon
From Goodreads: Diagnosed with Stage IV thyroid cancer at 12, Hazel was prepared to die until, at 14, a medical miracle shrunk the tumours in her lungs... for now.

Two years post-miracle, sixteen-year-old Hazel is post-everything else, too; post-high school, post-friends and post-normalcy. And even though she could live for a long time (whatever that means), Hazel lives tethered to an oxygen tank, the tumours tenuously kept at bay with a constant chemical assault.

Enter Augustus Waters. A match made at cancer kid support group, Augustus is gorgeous, in remission, and shockingly to her, interested in Hazel. Being with Augustus is both an unexpected destination and a long-needed journey, pushing Hazel to re-examine how sickness and health, life and death, will define her and the legacy that everyone leaves behind.
This book. There's no words to describe how amazing this book is. So many emotions. And it's the first John Green book I've ever read. Though, I seriously wish I had read a book of his
before
I read this one, to at least prepare myself for his type of unholy-good writing. Damn.
I read this bad-boy in one whole day. I know it's not much--considering the length--but I hardly ever read one book in one day/sitting. So, you know this
HAS
to be fucking good. And it was, oh-ho-ho-hooo...was it.
I felt the sadness coming on. It was definitely building up from the middle of the book. I've heard that this was a tear-jerking. BUT MY GOD. I didn't except myself to fully weep. I mean, I actually had accidentally averted my eyes to the next page, the beginning of the next chapter. That one sentence... I let out a choked sob, then gasped. It probably sounded like I was having a heart-attack to my mom. Hell, I felt like I did. I've always read books where the main characters actually
live to see the end of the book
. WELL THIS ONE CHANGED THAT. Though, I thought it would happen. But then I was like,
John's not actually going to do a mind-numbing thing such as that right? No YA author that I've read of does that. D:
BUT HE DOES. HE. DOES. *chokes*
Aside from all
heart-breaking, earth-shattering, soul-ripping, teeth-clenching
depression... I really, really loved this book. It had a humor in it that made me smile or chuckle... It is DEFINITELY one of the top five best books I've read in my short sixteen years of existence. John developed the characters so well, and made all of them so likable. I mean, dur. Though, who wouldn't love Augustus? He's funny, caring, sweet, cocky-ish, etc.
Notice I'm not using past tense.
And I really enjoyed being in the company of Hazel. She was so strong in the situation she was put in in the end. She was strong from the beginning of the book, though. But it was a different type of strong; as she accepted the fact that she has lung cancer, but kept living. If I was her, I would more than likely be in my bed all day, not doing a thing, and wallowing in my depression.
From this moment on, I will scour to the ends of the earth to get every single JG book out there. Mark my words... *dramatic finger point in no general direction*