Okay, so most of my friends know that Cassandra Clare's books are up there with my top ten favorite books. Maybe even five. They're awesome. <3 And so, I know I'm a bit behind on news for her. But I have been reading the updates from Cassie when she tweets and posts things on
her Tumblr
.
To start off with, there is some news for the CoB(City of Bones) movie! Finally, right? ;) Quote on quote from Cassie herself:
So I can't post much; I'm running off the airport, literally, to catch a plane home. I had a great meeting last night with Robert (of Constantin — the people who own the movie rights to City of Bones) and Jessica (screenwriter, along with Marlene King) and the director, who had such incredibly detailed questions about the film that I found myself having to pull out my iPad and reread City of Bones because even I couldn't remember what happened. But he did, which is an excellent sign!

Anyway, it was a great meeting — we went on for hours till they kicked us out of the restaurant and everyone was incredibly enthusiastic. Now here is an actual piece of actual news: I know people have been fretting because Lily has so many projects (she's a popular girl) so I checked in and she is still on board. And right now the plan is for an August 15 shooting start date for City of Bones.

Yes, that's an August shooting start date. So there, an actual piece of news. :) They're hiring a casting director now to start on the rest of the cast, and Lily has what's called "meaningful consultation" on the roles of Jace and Simon (meaning she gets to put in her two cents, which only seems fair since she has to kiss them both) — we know she already threw in for Jamie but I will say that she definitely likes someone for Simon that a lot of you all like. Who knows, maybe she can talk him into it. Girl with good taste, our Lily.

And that's all for now, I run to the airport, but I'll have a bit more for you later — like the director's name. ;)
So, a major "YAY!!!!" on that not. :D The next bit of news is that she has officially signed on to write a spin-off trilogy of TMI. If you're like me, and have been
stalking
following her tweets, you'll know that the trilogy is called
The Dark Artifacts
.
Click here to see some details about what we know so far
. But here's the official news!
NEW YORK, March 12, 2012– Cassandra Clare, award-winning #1 New York Times bestselling author of "The Mortal Instruments" and "The Infernal Devices" series, has signed an agreement with Margaret K. McElderry Books, an imprint of Simon & Schuster Children's Publishing, for a third young adult fantasy series featuring her immensely popular Shadowhunters. The new series will be entitled "The Dark Artifices."

"The Mortal Instruments" series—which includes City of Bones, City of Ashes, City of Glass and City of Fallen Angels—and "The Infernal Devices" series—which includes Clockwork Angel and Clockwork Prince—have gone on to become New York Times, USA Today, Wall Street Journal, and Publishers Weekly bestsellers. City of Lost Souls, the fifth installment in "The Mortal Instruments" series,will be published in all formats on May 8, 2012.
The first book in "The Dark Artifices" is scheduled for publication in 2015. Set against the glittering backdrop of present-day Los Angeles, the series follows Emma Carstairs, the fiercest warrior and most skilled young Shadowhunter since Jace Wayland, and Emma's sworn partner in arms, Julian Blackthorn. Despite Emma's complicated feelings for Julian, the two must band together to investigate a demonic plot that stretches from the warlock-run nightclubs of the Sunset Strip to the enchanted sea that pounds the beaches of Santa Monica.
Cassandra said: "Simon and Schuster has been a wonderful home for the Shadowhunter books for many years, and I am so excited to be able to embark on this new adventure with them. I know readers will come to love Emma, Mark, Cristina and Julian just as they have loved Jace, Clary, Will, Tessa and Jem. Readers have often asked what will happen in the Shadowhunter world after the events of the Mortal Instruments and this series will give them a chance to find out."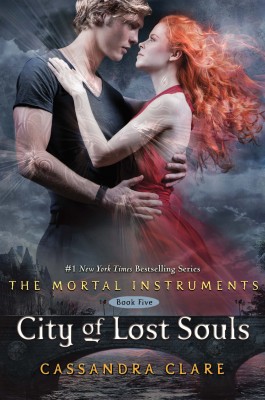 Also, on Cassie's tumblr, she said that the working title for the first TDA books is
Lady Midnight
. I don't care if I'm 20 or 21 years old in year 2015, I'm reading that series, dammit! Okay, last tid-bit of news! The official overview that will be on the jacket cover for City of Lost Souls. :)
The demon Lilith has been destroyed and Jace has been freed from her captivity. But when the Shadowhunters arrive to rescue him, they find only blood and broken glass. Not only is the boy Clary loves missing–but so is the boy she hates, Sebastian, the son of her father Valentine: a son determined to succeed where their father failed, and bring the Shadowhunters to their knees.
No magic the Clave can summon can locate either boy, but Jace cannot stay away—not from Clary. When they meet again Clary discovers the horror Lilith's dying magic has wrought—Jace is no longer the boy she loved. He and Sebastian are now bound to each other, and Jace has become what he most feared: a true servant of Valentine's evil. The Clave is determined to destroy Sebastian, but there is no way to harm one boy without destroying the other. Will the Shadowhunters hesitate to kill one of their own?
Only a small band of Clary and Jace's friends and family believe that Jace can still be saved — and that the fate of the Shadowhunters' future may hinge on that salvation. They must defy the Clave and strike out on their own. Alec, Magnus, Simon and Isabelle must work together to save Jace: bargaining with the sinister Faerie Queen, contemplating deals with demons, and turning at last to the Iron Sisters, the reclusive and merciless weapons makers for the Shadowhunters, who tell them that no weapon on this earth can sever the bond between Sebastian and Jace. Their only chance of cutting Jace free is to challenge Heaven and Hell — a risk that could claim any, or all, of their lives.

And they must do it without Clary. For Clary has gone into the heart of darkness, to play a dangerous game utterly alone. The price of losing the game is not just her own life, but Jace's soul. She's willing to do anything for Jace, but can she even still trust him? Or is he truly lost? What price is too high to pay, even for love? Darkness threatens to claim the Shadowhunters in the harrowing fifth book of the Mortal Instruments series.
Ahhh! So much to take in, right? Cassandra has some good things in store for her fans, I'll tell you that much! (By the way, I don't know when she changed it, but her
website
is totally remade! It's so cool!)
Bye for now! -Whitney