Rating
: ★★★★★
Release Date
: February 15, 2011
Age Group
: Young Adult
Format
: Hardcover
Pages
: 464
Publisher
: HarperCollins Children's Books
Source
: Bought
Buy
:
Barnes and Noble
First there are nightmares. Every night Ellie is haunted by terrifying dreams of monstrous creatures that are hunting her, killing her. Then come the memories. When Ellie meets Will, she feels on the verge of remembering something just beyond her grasp. His attention is intense and romantic, and Ellie feels like her soul has known him for centuries. On her seventeenth birthday, on a dark street at midnight, Will awakens Ellie's power, and she knows that she can fight the creatures that stalk her in the grim darkness. Only Will holds the key to Ellie's memories, whole lifetimes of them, and when she looks at him, she can no longer pretend anything was just a dream. Now she must hunt. Ellie has power that no one can match, and her role is to hunt and kill the reapers that prey on human souls. But in order to survive the dangerous and ancient battle of the angels and the Fallen, she must also hunt for the secrets of her past lives and truths that may be too frightening to remember.
Excuse me while I drown in my tears. Thanks... I
reeeeeally
loved this book. It had so much emotion in it, I could hardly hold myself together in some scenes. This has got to be one of the best books of 2011 I've read.
This is one of the
very few
books that I actually like the lead male and female being together. I usually go for the underdog, or I hate the lead female. But there wasn't really an underdog in this one, and the lead female was actually an okay character.
Unless you count Landon as an underdog.
And Will is my ideal guy. I love everything about him, inside and out. He's sweet, and protective and more. The amount of love he felt for Ellie, I could feel it through the pages. He went through a hellacious adventure for Ellie. I think he deserves her. And I'm glad that Ellie doesn't care about what she is, or who she is, she just wants to be with
him
. I seriously hope things work out for them both.
It's a nice new take on angels and demons, if you ask me. There wasn't really demons in it, but reapers. I liked that there's a dimension for the reapers too, called the Grim. It's pretty cool, if you think about Grim Reapers. I liked it a lot. :D I also liked the background on the Angels, Demons, etc. It was very close to what I believe in. That's putting it in a rhetorical kind of way, if you will. Since, I'm a Christian, it's nice to actually read a book that, in a way, sticks close to what you believe in. :) (I don't know if the author is Christian or what.)
And can I just say that finding out what Ellie is, as in her species, and
who
she is...totally shocked the hell out of me? I actually had to reread that little part over a couple times. I couldn't believe it, really. Don't know why lol. It took me fully by surprise. I wasn't on my guard for that one. :P
All in all, I loved this book. I need the second book like...
right now
. :( Now, I shall go and wallow in teen angst.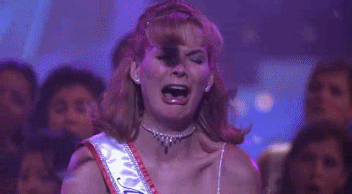 View all my reviews