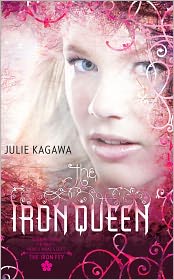 Rating: ★★★★★
Release Date: January 25, 2011
Age Group: Young Adult
Format: Paperback
Pages: 368
Publisher: Harlequin
Source: Bought
Buy:
Barnes and Noble
The New York Times Bestseller My name is Meghan Chase. I thought it was over. That my time with the fey, the impossible choices I had to make, the sacrifices of those I loved, was behind me. But a storm is approaching, an army of Iron fey that will drag me back, kicking and screaming. Drag me away from the banished prince who's sworn to stand by my side. Drag me into the core of conflict so powerful, I'm not sure anyone can survive it. This time, there will be no turning back.
Spoilers ahead! If you have yet to read The Iron Queen, do not read.
Dear Julie,
please
have mercy on us and have a happy ending to this series.
Okay. Let me start off by saying this is the best book in the series
thus far.
Although it really pained me in some scenes where Meghan was being a bitch to Puck. Especially when she slapped the piss out of him. Seeing as how I'm on his Team, whenever he hurts, I hurt. D: Cheesy, I know. But I love him. <3 I'm beginning to like Ash a little more though. And I have a feeling I will like him a
lot
more in The Iron Knight, dammit.
This book made me cringe a lot. Well, the whole series made me cringe a lot lol. But in both good and bad ways. I liked the fact that I didn't find out who the false king was until the
very last two chapters.
That kept fixated and very interested in reading the whole thing. And when I found out, I felt like Meghan. It was really obvious in some ways. I should have known. I kind of had an idea, but then I wasn't for sure. I was thinking it would've been King Oberon. *cowers*
The ending of this book...was totally unexpected. I couldn't believe it, really. Out of all the books I've read, that ending had to have been one of the most unpredictable. I loved it. I'm still reeling from it! I can't wait until
The Iron Knight
comes out now. It'll definitely be different, since it's in Ash's perspective, but I don't think I would care. Still the same characters (I hope), and there won't be any death (I hope), and Meghan and Ash will be together (I guess I hope).
All in all, this was a great read. I loved every moment of this series, and I'm pissed at myself for not reading it sooner. But I'm glad I didn't have to wait for the books to come out. But
The Iron Knight
is only less than two...agonizing...months away. :)
You done good, Julie. You done good. :D
View all my reviews