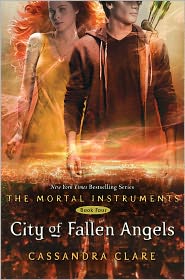 Rating
: ★★★★★
Release Date
: April 5, 2011
Age Group
: Young Adult
Format
: Hardcover
Pages
: 432
Publisher
: Margaret K. McElderry Books
Source
: Bought
Buy
:
Barnes and Noble
The Mortal War is over, and sixteen-year-old Clary Fray is back home in New York, excited about all the possibilities before her. She's training to become a Shadowhunter and to use her unique power. Her mother is getting married to the love of her life. Downworlders and Shadowhunters are at peace at last. And—most importantly of all—she can finally call Jace her boyfriend. But nothing comes without a price. Someone is murdering Shadowhunters, provoking tensions between Downworlders and Shadowhunters that could lead to a second, bloody war. Clary's best friend, Simon, can't help her. His mother just found out that he's a vampire and now he's homeless. Everywhere he turns, someone wants him on their side—along with the power of the curse that's wrecking his life. And they're willing to do anything to get what they want. Not to mention that he's dating two beautiful, dangerous girls—neither of whom knows about the other one. When Jace begins to pull away from her without explaining why, Clary is forced to delve into the heart of a mystery whose solution reveals her worst nightmare: she herself has set in motion a terrible chain of events that could lead to her losing everything she loves. Even Jace. Love. Blood. Betrayal. Revenge. The stakes are higher than ever in City of Fallen Angels.
I found my review of CoFA. :) It's kinda old, about a week before it came out is when I read it.
Firstly, it was way better than I expected it to be. Definitely. But it wasn't as bad as I thought it would be emotionally. Although I did wince at the ending. That was totally and completely unexpected. I actually tore a page of the book (not too badly!) because of the suspense. Either it was suspense or I just didn't want it to happen. But it did, and sadly, I can't change it. :C
And I do believe I laughed more in this book than the last three. :) Things Jace and Isabelle say are just pure gold. Simon too. I'm easily amused… But this had me laughing out loud with my mom asking, "Why are you crying?" Me: "Oh nothing. Just these fictional characters always get to my funny bone, mom. You know how it is. No biggy."
I was actually surprised how far Cassie went with the…."smut". (nothing major) But I loved it, of course. And no, no one went to South Carolina…..unfortunately. (sadfaceeeee) I was reading a couple parts between Jace and Clary with my own head spinning. I was most likely to pass out faster than Clary if she were too! Let me tell you the DSAS is….*shivers*….
I'm pretty relieved that nothing too drastic happened in this book, seeing as how I'm a hardcore fan of Cassandra's books. A pretty good bit of action, those was utterly my favorite parts. I'm a big action/comic book reader myself, Simon Lewis. ;P Hit me up. Eh, don't want to get you into any more trouble than you're already in…relationship wise.
Also, the new characters are a fascination of mine. Especially one in particular. Very nice, Cassie, I must say. Very nice. Just add to it.
ANYWAY.
All in all, Cassie, YOU DUN GOOD….. YOU DUN GOOD. City of Fallen Angels has to be the best book I've read so far this year. I am impressed thoroughly! A++ for you~ :D
View all my reviews